HGWD5-1.2-8B Belt Type continuous vegetable and fruit dryer dehydrator
Product Details:
| | |
| --- | --- |
| Place of Origin: | Zhengzhou,Henan,China |
| Brand Name: | HUAFOOD |
| Certification: | ISO,CE,SGS |
| Model Number: | HGWD5-1.2-8B |
Payment & Shipping Terms:
Type
HGWD5-1.2-8B
No.of Unit
4
Size
10*2*4m
Temperature (°C)
50-140℃
steam pressure
0.2-0.8Mpa
steam consumption(Kg/h)
300-600kg/h
Power
15kw
drying intensity(Kg.H2O/m².h)
6-30.
Video
Parameters
Type
HGWD5-1.2-8B
HGWD5-1.2-10B
HGWD5-1.6-8B
HGWD5-1.6-10B
HGWD5-2.0-8B
HGWD5-2.0-10B
No.of Unit
4
7
4
7
4
7
Size
10*2*4m
16*2*4m
10*2.4*4m
16*2.4*4m
10*3*4m
16*3*4m
Temperature (°C)
50-140℃
steam pressure
0.2-0.8Mpa
steam consumption(Kg/h)
300-600kg/h
500-1500kg/h
300-600kg/h
500-1500kg/h
500-800kg/h
500-2000kg/h
Power
15kw
30kw
20kw
35kw
20kw
35kw
drying intensity(Kg.H2O/m².h)
6-30.
Application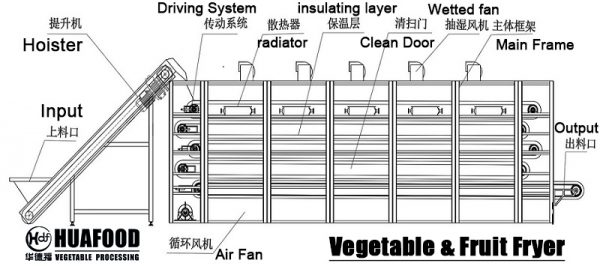 The mesh belt hot air dryer is a continuously operated dryer developed from a box dryer. The classification of the belt dryer can be divided into counter-flow exhaust type, co-current exhaust type and unidirectional exhaust type according to the exhaust mode. According to the number of layers of the conveyor belt, it can be divided into single-layer belt dryer, multi-layer belt dryer, and several single-layer belt dryers are connected in series to become a multi-stage belt dryer.
Scope of application:
The belt dryer is a commonly used continuous drying equipment, which can be widely used in chemical, food, pharmaceutical, building materials, electronics and other industries. It is particularly suitable for the drying of sheet, strip, and granular materials with good ventilation. Types and paste-like materials can also be dried after being formed by a granulator or extruding mechanism.
Applicable materials:
Seaweed, dehydrated vegetables, dates, granular and flake food, granular feed, monosodium glutamate, chicken essence, coconut paste, organic pigments, synthetic rubber, acrylic fiber, pharmaceuticals, medicinal materials, small wooden products, plastic products, electronic components aging and curing.
Features
1. Strong stability: The core components are independently developed and manufactured, and continuous operation is stable and reliable.
2. Strict safety standards: anti-airborne protection, electrical standards (national standard)
3. Intelligent: highly embedded control system, one-key start, data parameters can be transmitted online and wirelessly.
4. The use of advanced equipment processing and manufacturing: fine production technology.
 Inquiry Huafood Whatsapp Wechat Line:

+8615136129173