Air shower cleanroom (for staff work clothes)
Product Details:
| | |
| --- | --- |
| Place of Origin: | Zhengzhou,Henan,China |
| Brand Name: | HUAFOOD |
| Certification: | ISO,CE,SGS |
| Minimum Order Quantity: | 1sets |
Application:
Application field:
Food and beverage, biochemistry, precision instruments, electronics, optoelectronics, microelectronics, fiber optic cables, precision machinery, biopharmaceuticals, aerospace workshops
Scenes:
Personnel shower room
Cargo air shower room
Purification:
Dust, hair, bacteria
Effectiveness:
99.99%
Customizable:
Accept customization and OEM
Video
Parameters
Model
HDF-FLS-BXG2-2
HDF-FLS-BXG1-1
HDF-FLS-BXG3-2
Nozzles
12 (6 on one side)
6(6 on one side)
24 (12on one side)
Air shower time
0-99s adjustable
0-99s adjustable
0-99s adjustable
Nozzle diameter
φ30mm
φ30mm
φ30mm
Wind speed at
nozzle outlet
≥20m/s
≥20m/s
≥20m/s
Weight
400kg
200kg
300kg
Filter effect
≥99.99% for dust with particle size ≥0.3 μm
(sodium flame method)
Outer diameter
dimension
1400L*1500W*2100H
1200L*1000W*2100H
1400L*1920W*2100H
Inner diameter
dimension
800L*1420W*2000H
800L*920W*2000H
800L*1420W*2000H
Power supply
380/220V 50HZ
380/220V 50HZ
380/220V 50HZ
Overall dimensions of high efficiency filter
600*600*120
(two on one side)
600*600*120
(two on one side)
600*600*120
(two on one side)
Maximum power
2.2KW
0.5kw
2.2kw
Shell material
all stainless steel
(304 or 201)
all stainless steel
(304 or 201)
all stainless steel
(304 or 201)
Application
Product Introduction:
The air shower room is a highly versatile local purification equipment, installed between the clean room and the non-clean room. When people and goods need to enter the clean area, they need to be sprayed through the device. The clean air can blow off the dust carried by people and goods, effectively blocking or reducing the dust source entering the clean area. The device can also act as an air lock to prevent unpurified air from entering the clean area. It has the characteristics of compact structure, beautiful appearance, low noise and convenient installation and maintenance.
Application: Air shower is widely used in LCD and Optoelectronic Display, PCB, microelectronics, dust-free coating, aseptic packaging, medical care, Pharmacy,auto glass and precision parts.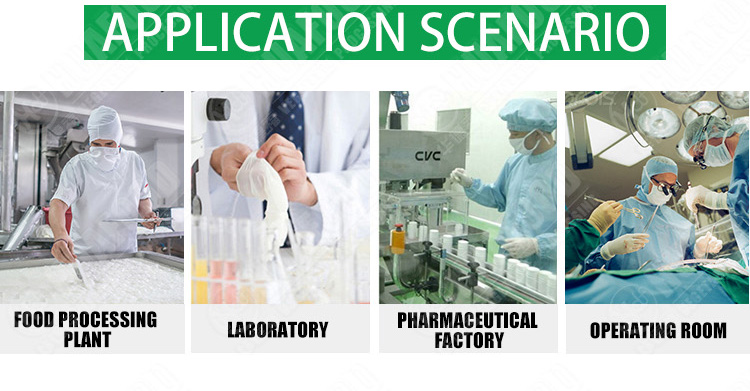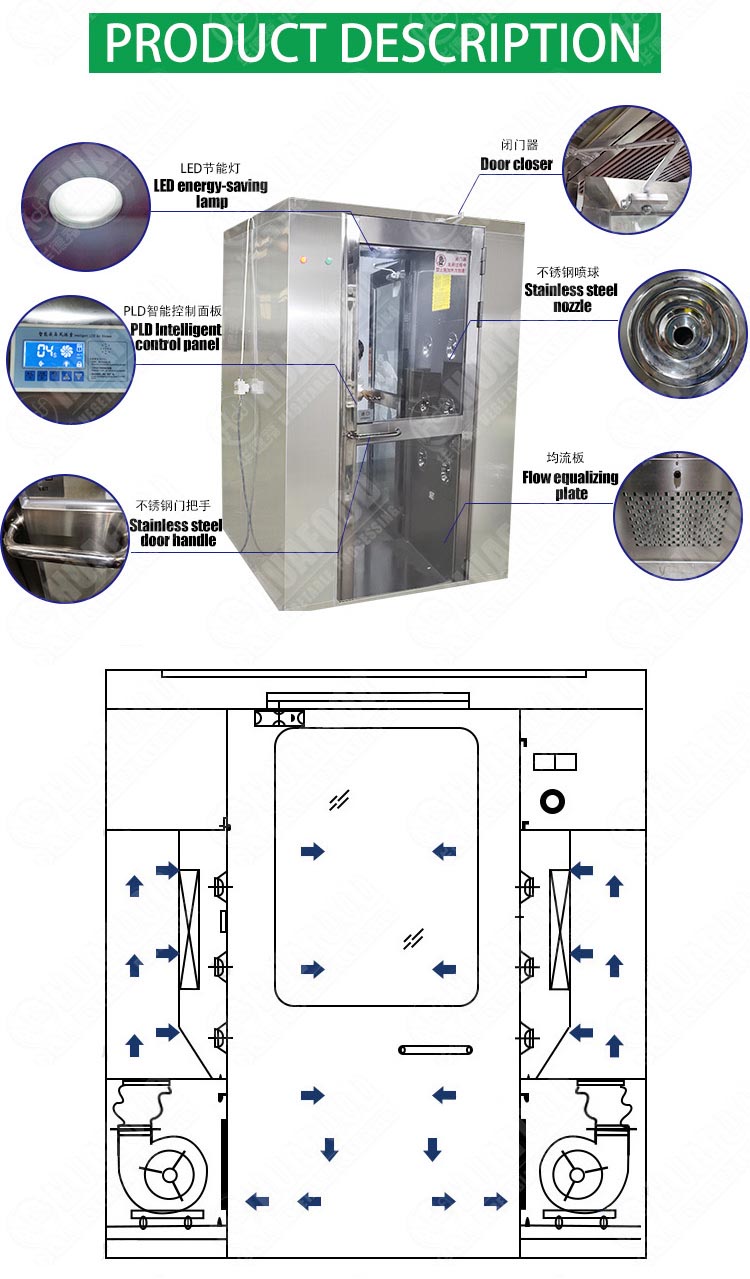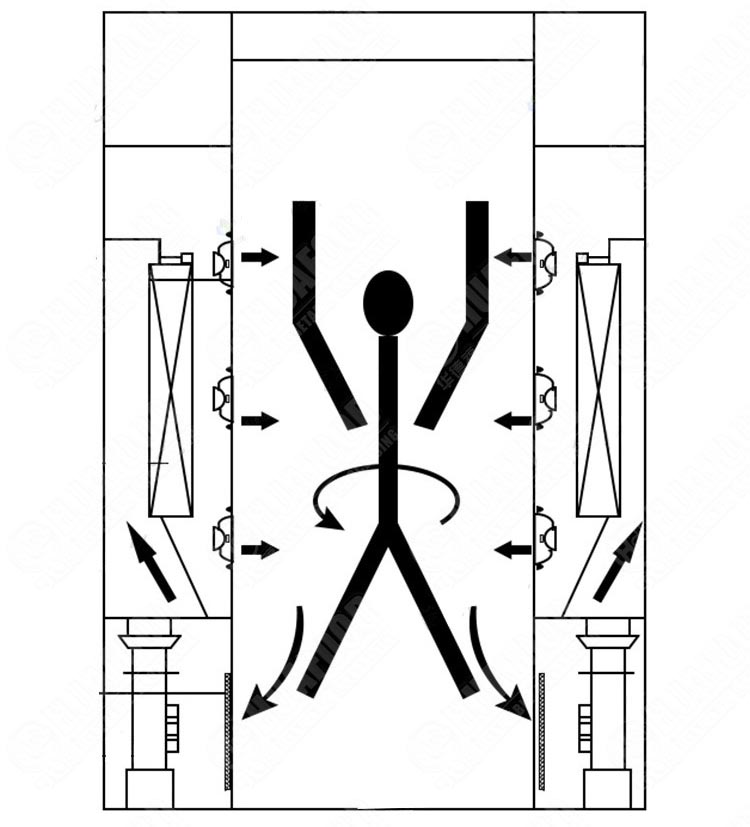 Structural characteristics:
1) Special design is adopted for the internal air duct to ensure the high-strength wind speed of the air outlet.
2) Adopt digital display, the wind shower time can be adjusted, and display the wind shower time.
3) Clean air is designed for internal circulation to ensure cleanliness.
4) Configure the control system as a voice intelligent control system, according to different application places, divided into manual, semi-automatic, automatic and other control types.
Working Principle:
The ambient air passes through the air filter and is pressed into the static pressure box by a dedicated fan to blow out a high-speed clean air flow from the air outlet surface. The clean air flow is sprayed onto the person/goods at high speed by the rotatable nozzle, effectively and quickly eliminating the attachment to the clothes Or dust particles on the cargo.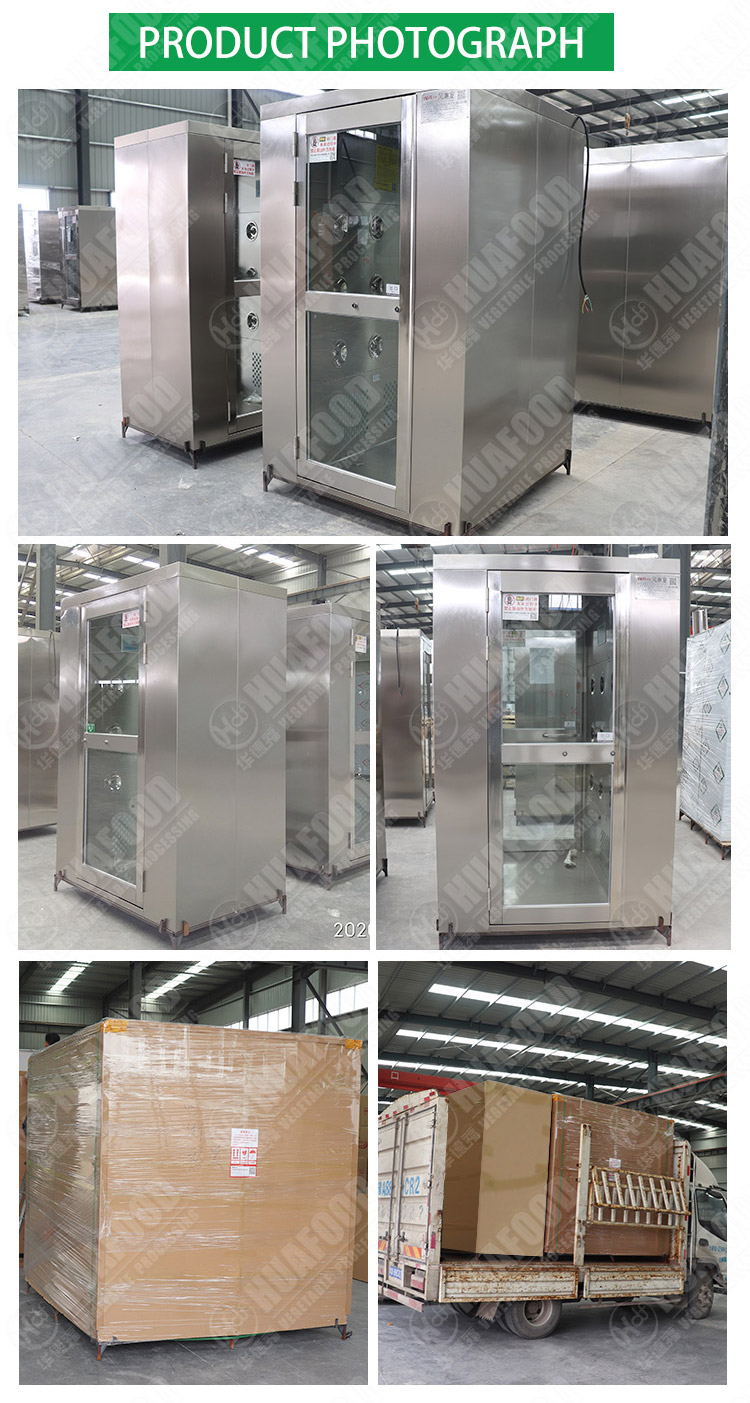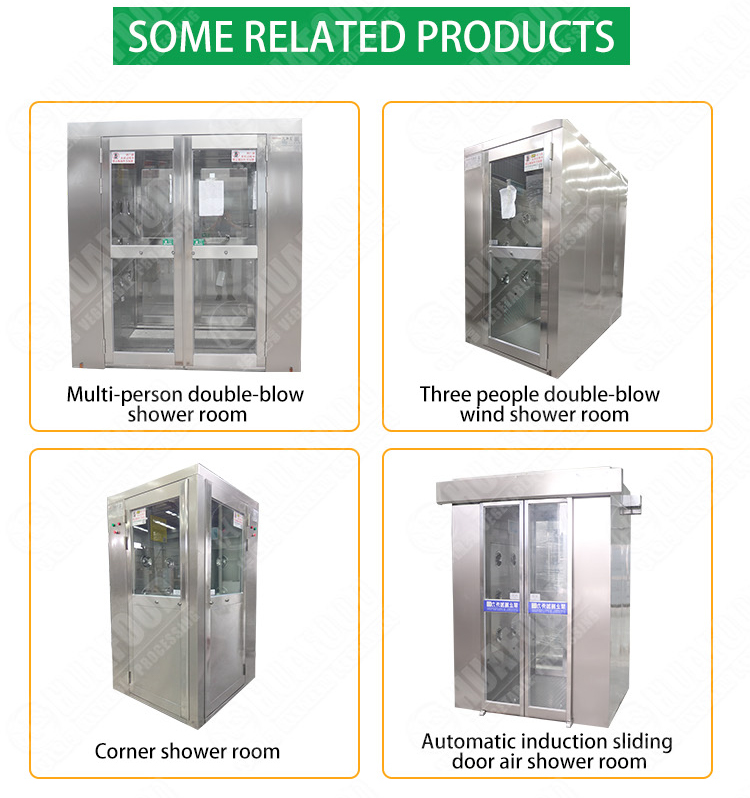 Features
Completely self-contained, pre-wired, fully equipped Air Shower/Tunnel systems help solve decontamination problems
Modular design lets you order a system to suit your cleanroom
HEPA filter/blower modules (rated 99.99% efficient @ 0.3 micron particles) wash personnel with Class 100 air to dislodge and remove particles
Solid-state microprocessor panel provides programmable control over access door operation.
Electromagnetic interlocking doors minimize contamination and automatically release in the event of power failure or when the emergency stop button is pressed
Energy-efficient LED lighting mounted on the ceiling
Available in white powder-coated or stainless steel to meet various cleanroom requirements
Variety of sizes and door configurations
Economical to operate and easy to maintain
An ionizing bar is available as an optional accessory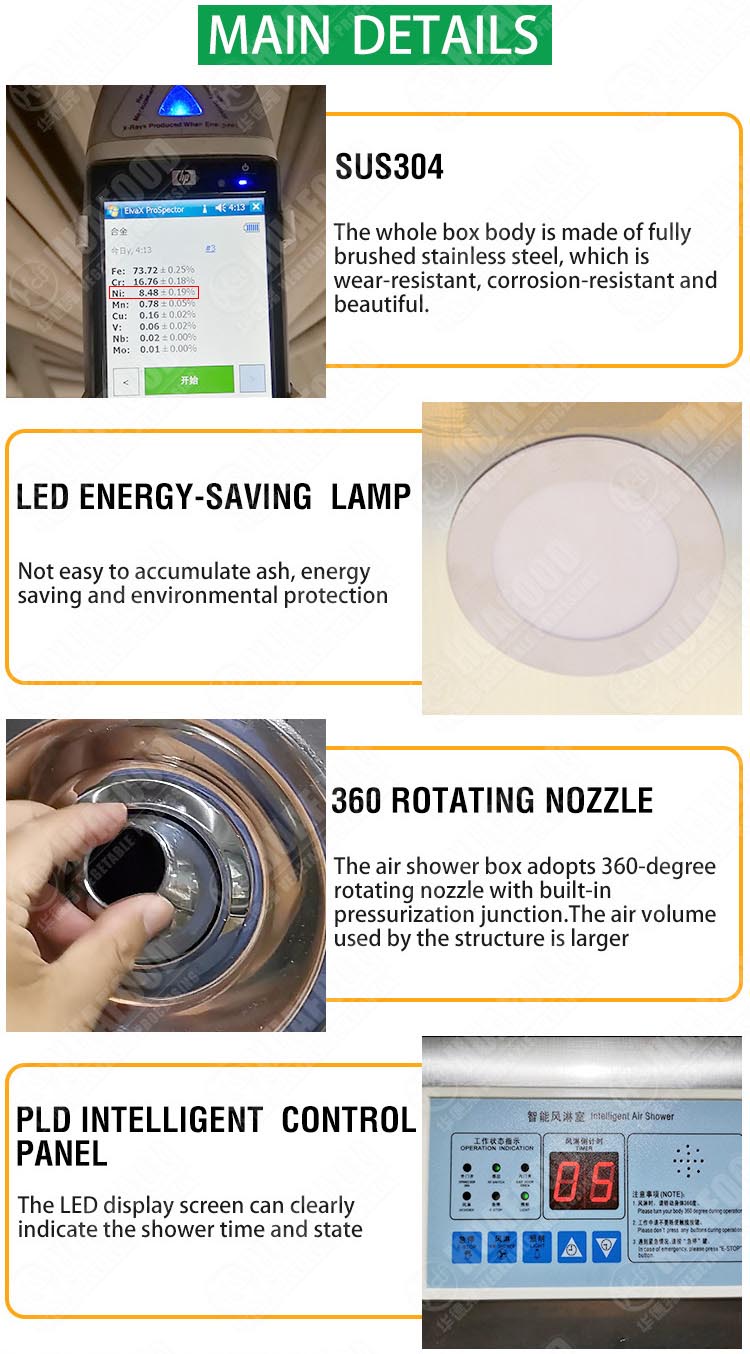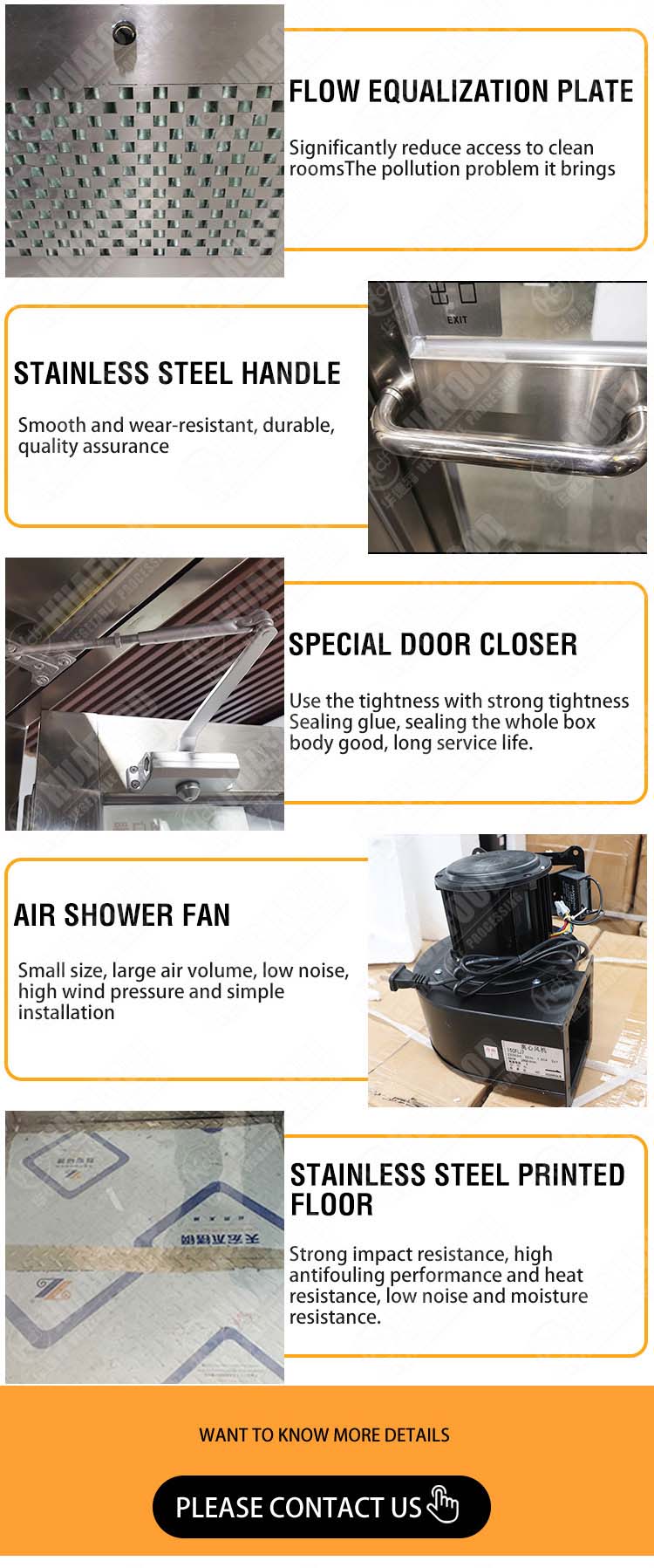 Inquiry Huafood Whatsapp Wechat Line:

+8615136129173