HTYS-1370 automatic dewatering machine deoiling machine for snack food
Product Details:
| | |
| --- | --- |
| Place of Origin: | Henan Huafood,China |
| Brand Name: | HUAFOOD |
| Certification: | ISO,CE,SGS |
| Model Number: | HTYS-1370 |
Parameters
Model
Dimension(mm)
Weight

(kg)

Power

(Kw/V)

Output
HTYS-1370
1370*1260*1650
280
1.65/380
400-600
Video
Working principle
Application:
Our deoiling machine adopts machinery centrifuging theory. It can de-oil the redundant moisture, oil on the product surface. The oil content of de-oiled product is low so that the quality guarantee period can be prolonged, And the taste will be better.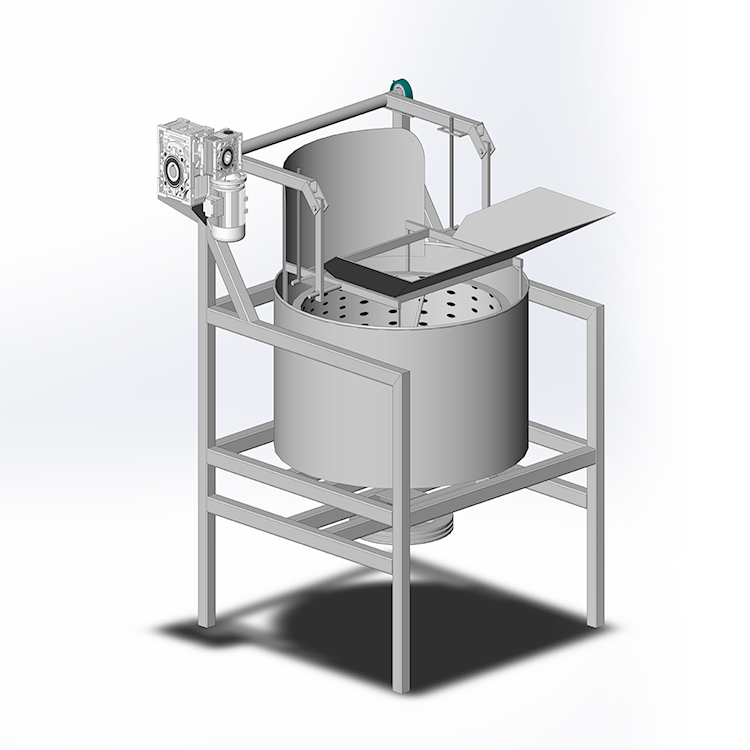 The centrifugal de-oiling machine is equipped with a shock-proof system, and the equipment does not vibrate, does not run, and has strong stability during de-oiling. It is suitable for dehydration of food and vegetables after cleaning and deoiling of fried food. The main component of the deoiling machine is the inner container, and small holes are distributed around the inner container, and the food and vegetables to be deoiled are placed in the inner container. The motor drives the inner container to rotate at high speed through the belt. Therefore, a great centrifugal force is generated, and the oil is thrown out through a small hole in the inner container, and is collected and uniformly discharged.
The centrifugal oil remover has a reasonable structural design, effectively eliminates the dead angle of sanitation, has smooth transition of structural parts, adopts stainless steel to manufacture external structural parts, fasteners and rotating drums, and has a turnover type at the top, so that the interlayer space between the centrifuge shell and the rotating drum can be thoroughly cleaned; The mesh diameter of the inner container shall be precisely laser drilled according to customer's requirements, smooth and free of burrs. The oil outlet with reasonable design of the fuselage can timely and effectively discharge the separated oil and water into the designated container, and the sanitary environment is clean and tidy. Can be matched with a frying machine, a seasoning machine and a packaging machine to form an assembly line; High efficiency, time saving and labor cost saving; The whole set is made of stainless steel, which is easy to assemble, disassemble and clean and conforms to food safety.
Feates
Features:
1. The design of potato dehydrator machine is new and the structure is rational. Feeding, de-oiling and discharging are in full automatic operating.
2. Potato french fries dryer machine adopts variable frequency control, which is applicable to a wide range.
3. Moreover, it reduces power of work and increase the productivity when supported by full automatic frying product line.
 Inquiry Huafood Whatsapp Wechat Line:

+8615136129173