HQP-5000 high pressure spray cleaning machine date drum washing machine
Product Details:
| | |
| --- | --- |
| Place of Origin: | Henan Huafood, China |
| Brand Name: | HUAFOOD |
| Certification: | ISO,CE,SGS |
| Model Number: | HQP-5000 |
Parameters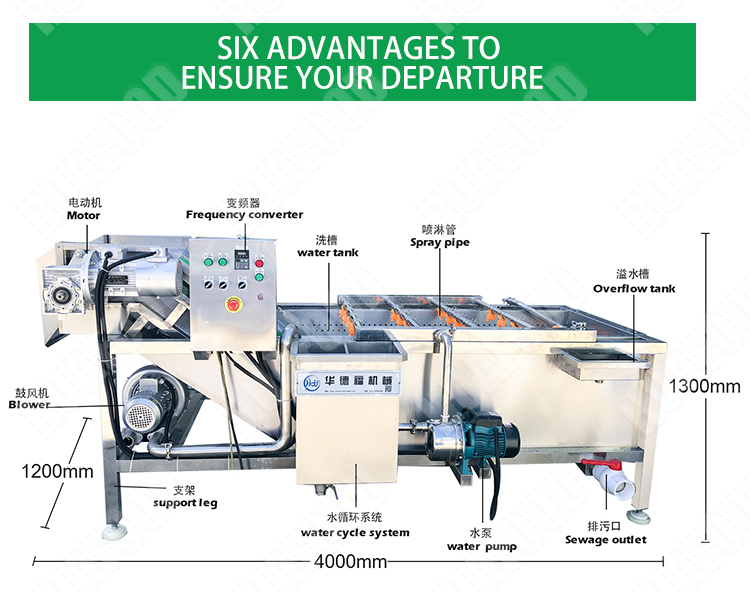 Model
Machine Size
(mm)
Power
(kw)
Weight
(kg)
Parameters
Washing
Capacity
function
HQP-2500
2500*1000*1300
3.75
250
1.Machine material:SS304
2.Power:380v/50hz/3-phase
3.Belt type: Stainless steel mesh chain/stainless steel chain plate
4.Automatic mesh belt transportation
5.Speed can be adjusted
6.With high presser spraying system
7.With bubble surfacing system
8.Simple operation and control
9.Provide customized service.
500kg/h
1.High pressure

2.Ozone

3.Ultrasonic

4.Can be customized according to customer needs

HQP-4000
4000*1200*1300
4.1
400
1000kg/h
HQP-5000
5000*1200*1300
5.1
500
1500kg/h
HQP-6000
6000*1200*1300
5.5
600
2000kg/h
Video
Working principle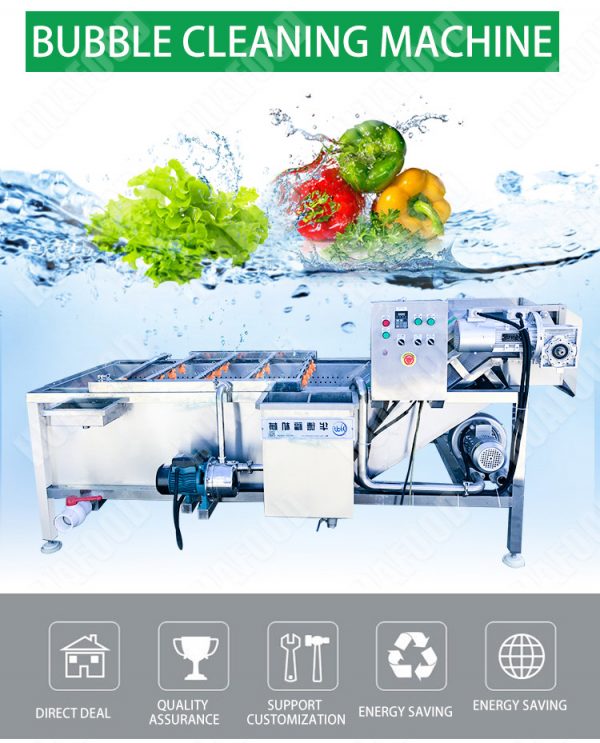 The vegetable washing machine is applied for factory, hotel, restaurant and farm to wash all kinds of vegetable and fruits thoroughly. Include:vegetables, fruits, seafood, and Granular, leafy, rhizome products cleaning, soaking, disinfection and fixing and so on.Such as:
Leaf vegetable:spinach,cabbage,celery,scallion,chives,etc.
Fruit:apple,pear,grape,cherry,strawberry,etc.
Rhizome products:potato,cassava,ginger,garlic,tomato,onion,etc.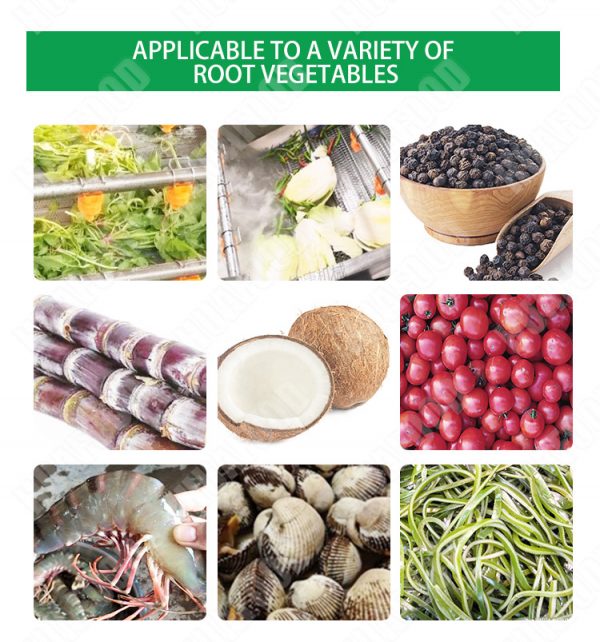 Rack with high-quality SUS304 stainless steel production, comply with the national food industry use standard, the bubble tumbling, scrub, spray technology, the maximum of material for cleaning, assembly line in every single machine can be based on using different processing characteristics tailored, satisfy the requirement of the process, cleaning operation stepless speed can be adjusted, the user can according to different cleaning content set arbitrary, the
structure is compact, high automation, suitable for all kinds of processing scale enterprise use.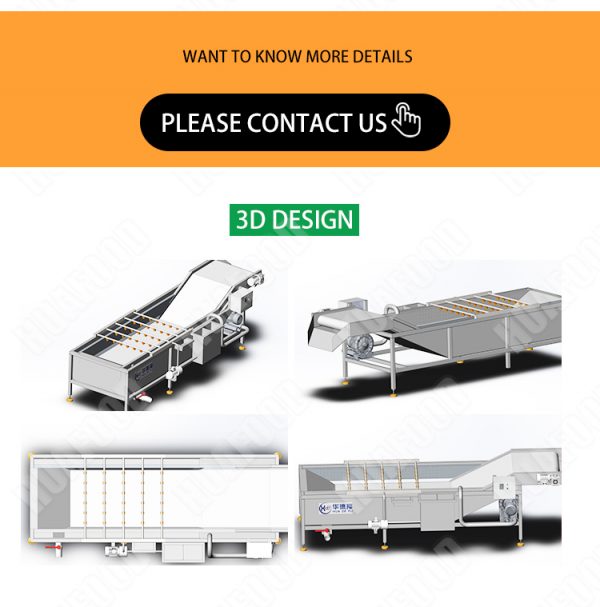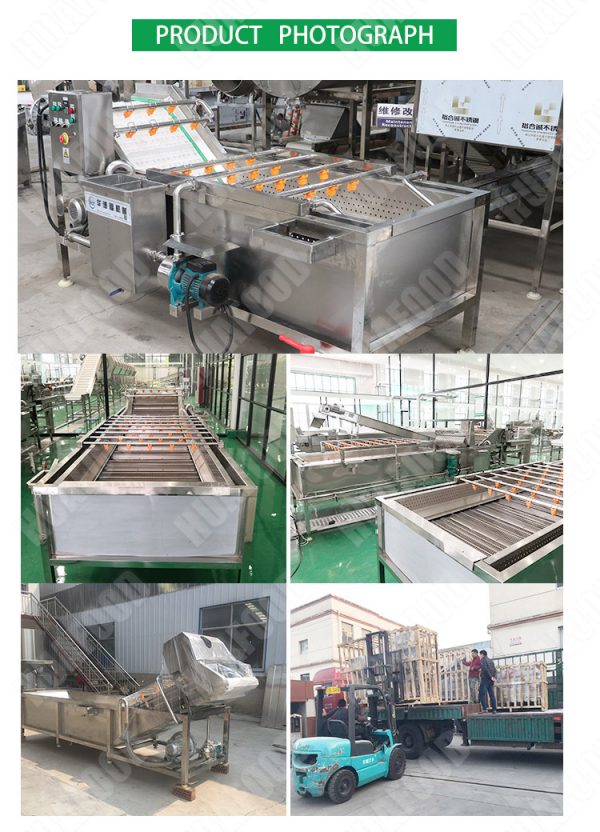 Feates
1. Fruit and vegetable washing machine has fast speed and uniform effect, and the inner and outer grooves are all stainless steel.
2. The fruit and vegetable washing machine has novel continuous cleaning equipments such as washing liquid spray washing, water spray rinsing, fan blowing water, hot air drying and the like.
3. Fruit and vegetable washing machine working time, temperature, power (adjustable).
4. Fruit and vegetable washing machine greatly improves production efficiency and saves cost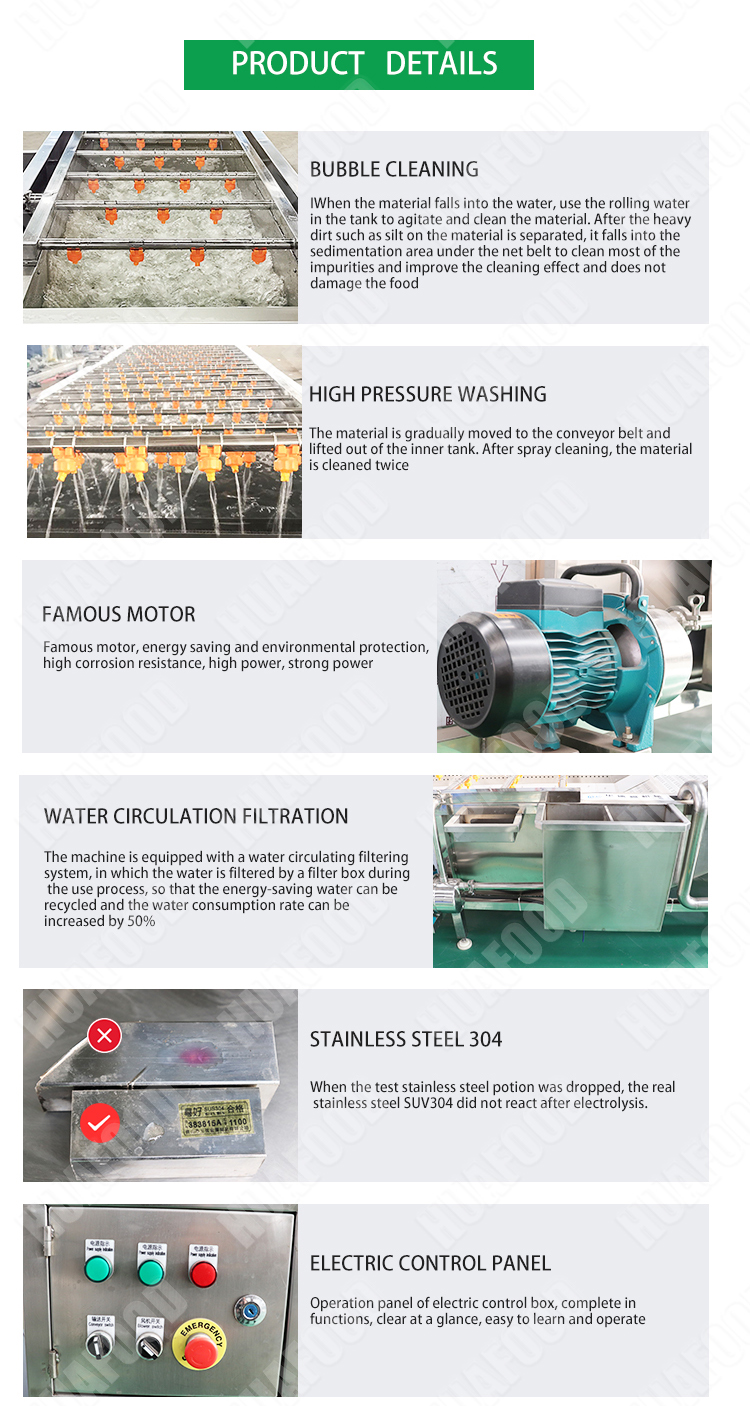 Inquiry Huafood Whatsapp Wechat Line:

+8615136129173