Intelligent weighing food packaging machine
Z-type packaging machine is a smart weighing automatic quantitative packaging machine, double-layer vibration feeding, computer control, precise and fast. Mainly package small granular materials, such as dried fruit, roasted seeds, seeds, peanuts, broad beans, chicken essence, monosodium glutamate, miscellaneous grains, pesticides (granules), hardware and so on.
Packing specification: 20-2500 g / bag
Power: 500W
Packing speed: 1500-2500 bags / hour
Weight: 180 kg
Packing accuracy: ±0.5%
Dimensions: 1250*910*1850 (mm)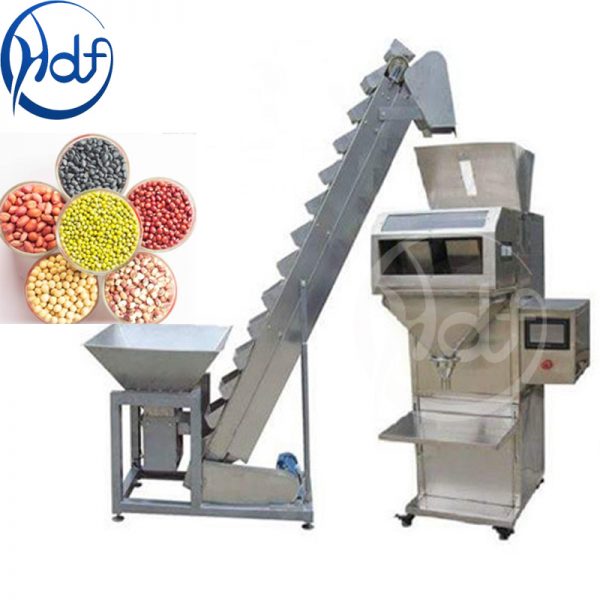 1. Using the drop and precision tracking technology, the food packing machine has its own error correction function to achieve higher repeatability and higher precision.
2. One machine has four weighing units and eight vibration units, which can realize fast feeding and realize the rotation work. The four vibration unit systems have lower relative cost and the packaging speed has a slight influence. Electronic scale measurement to ensure packaging accuracy.
3. Eight-stage vibration control, which can adjust the size and vibration feeding unit according to the material characteristics, realize fast feeding and slow feeding adjustment, in order to obtain higher packaging speed and precision.
4. The loading bin has an adjustment baffle to adjust the flow rate of the blanking material so as to increase the packaging speed as much as possible.
5. The parts in contact with the materials are all made of stainless steel for easy cleaning and prevent cross-contamination.
Strong and weak circuits are completely separated, and the anti-interference ability is strong.
6. Wide range of packaging: The same equipment can be packaged in the range of 20-2500 grams. Just change the setup parameters.
7. Photoelectric control, easy to operate, clean mouth, easy to seal
8. Optional automatic feeding system to realize real-time control of material level and automatic feeding.