Triangle bag tea packaging machine
Triangle tea bag packaging machine description
The automatic intelligent weighing triangle tea packaging machine adapts to a wide range, such as: black tea, green tea, white tea, yellow tea, black tea, oolong tea, flower tea, nourishing liver tea, nourishing stomach tea, health tea and other daily foods and small condiments Quantitative weighing of granular and powdered materials.
Electronic scale power: 1000W; voltage: 220V
Production speed: 25-65 bags / min
Particle content: 2 ± 0.5 g / bag
Packing shape: three-dimensional triangle bag
Gross weight: 160Kg; Net weight: 130Kg
Package size (mm): 680 (L) × 780 (W) × 1200 (H)mm
Machine size: 600 (L) X700 (W) X1100 (H)mm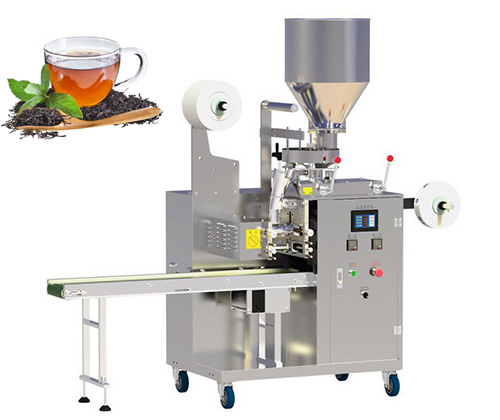 Tea bag packaging machine feature
1, Through the ultrasonic sealing, sealing and cutting, the package body is quite flat.
2, With a degradable nylon filter cloth can be made into a triangular three-dimensional, transparent, scorpion-type tea bag, and may also be made into a square flat bag according to customer needs.
3, The edge sealing welding is firm and achieves borderless docking, which is a tea packaging style that is particularly popular on the market.
4, Can be used with a taped nylon filter, you can also use a wireless non-label nylon filter and non-woven material.
5. The method of unloading may be based on different materials of the customer to prepare different cutting methods, such as rotary volumetric metering, sliding volumetric metering, chain bucket manual metering, and vibrating tray blanking.
6. The whole tea bag packing machine is made of 304 stainless steel. The frame is not only environmentally friendly, but also durable.
7. Electronic scales High-precision digital load cells enable precise metering transients.
8, Microcomputer control system, using spiral feeding, imported instruments, advanced technology, easy to operate.
9, All stainless steel sealed body, anti-corrosion and dustproof
10, The measuring bucket can be quickly disassembled, easy to clean and repair
11. Tea packing machine can be combined with different sub-assembly forms according to user requirements to expand the weighing range.
12, Strong compatibility, easy to use with other packaging equipment.
13. The electronic scale adopts German imported sensor and weighing module, which is more accurate, more sensitive and quicker, which greatly improves the packaging speed and performance of the machine.